Our Customers Lips Aren't Sealed!
Magic Seal LLC has earned a stellar reputation for providing high-quality commercial and residential sealcoating ready to meet your needs! With three decades of experience as the top paving company serving Rochester, NY, and Monroe County, Magic Seal LLC has built up a solid base of customers and we look forward to working with you, too.
"Great company! Had signed up for crack fill as well- when they arrived they said our driveway was "beyond" crack fill and he didn't feel right charging us for something that is not advisable and would look awful. We appreciated the honesty and will keep using them in the future."
— Lori
"Very professional crew did sealcoating on my driveway. They trimmed edges and brushed the surface before blowing the whole thing clean. They even helped me move some things. I paid a great price for my large driveway and would definitely recommend this company!"
— Denise
"Everything was great, they showed up early in the morning. They were done in a good time and did a great job. We always contact Cody for our needs and he always takes care of it in a fast and significant way. Always a pleasure."
— Deborah
"Great service. On time and quick. Seal is very neat plus we saved with my Better Benefits discount. All around, a great organization!"
— Tami
"Very happy with Magic Seal LLC. I have had them seal my driveway several times now and it always looks great! Had them come early in the season and it still looks like it was just done.The job is always very neat and tidy. I have no complaints."
— Loren
"MAGIC SEAL is Fantastic!!! We had them out to seal our driveway and it looks GREAT. Danny came out first to edge the driveway and clean it off before sealing. As soon as he was done Corey and Jimmy came with the "Sealer" truck. They were very thorough."
— Paulette
"We had Magic Seal seal our old driveway for years. Gave us the best quote when we had it replaced last year. Looks great!"
— Maria
"Magic Seal did a great job on our driveway! They responded right away to schedule our appointment and followed up with a reminder. They provide a great service at a great value! We will be using them again!"
— Melissa
Magic Seal LLC offers asphalt repair, sealcoating, driveway repair, parking lot striping, & more.
Call us or send us a message to get a quote!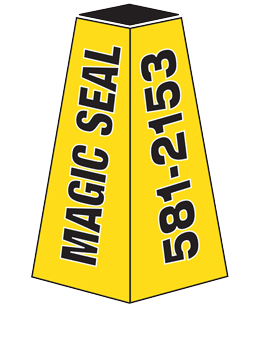 Business Hours
Monday — Friday
8:30 AM to 12:00 PM
Saturday — Sunday
Closed